Film Coating Thickness Gauge GT230
This product is a colour-screen portable coating thickness gauge with highdefinition display, which can quickly, non-destructively and accurately measure non-magnetic coating thickness on magnetic & non-magnetic metal substrates.
At the same time it can automatically identify magnetic metal substrate and non-magnetic metal substrate, and is widely used in manufacturing, metal processing industry, chemical industry, commodity inspection and other testing areas.
This Coating Thickness Gauge thermometer possesses the following features:
Menu operation and color-screen HD display.
Thickness measurement of non-magnetic coating on magnetic metal substrate surface and non-metallic coating on non-magnetic metal substrate.
Two measurement methods: single measurement, continuous measurement.
Basic calibration and Zero-point calibration available.
Metric/imperial unit and storage function.
Screen rotation, charge protection, multi-interface displays, screen brightness selection.
Automatic shutdown.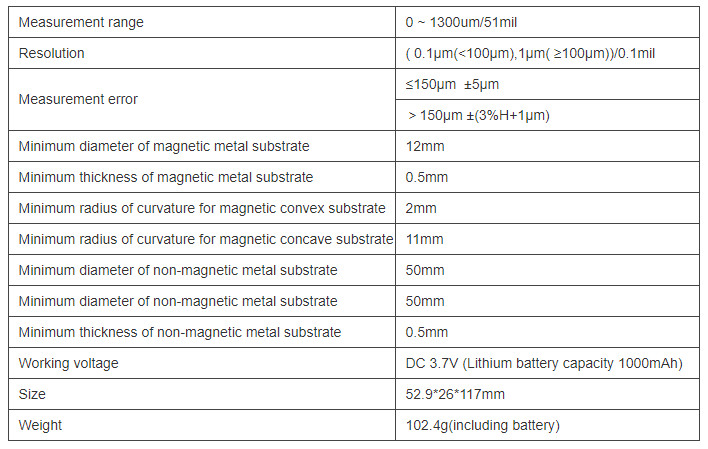 | | |
| --- | --- |
| General Description | Flexible sheath can be bent/formed to suit many applications and processes |
| Connector Type | Plug |
| Connector Size | Miniature (moulded-on) |
| Element/hot junction | Single element, grounded junction offering fast response |
| Max. Temperature | +260°C (Moulded-on plug +110°C) |
| Min. Temperature | -50°C |
| Probe Diameter | 3.3mm |
| Probe Length | 80mm |
| Probe Material | Needle point tip, 316 stainless steel |
| Sensor Type | Mineral insulated |
| Standards Met | IEC |
| Thermocouple Type | K |
| Termination Type | Miniature moulded flat pin plug, colour coded 'green' in accordance IEC specification |
---