UK Temperature Sensor Manufacturer
Labfacility are a leading UK Temperature Sensor Manufacturer. The Company has been trading since 1971 and is ISO 9001 accredited. We have two UK sites – West Sussex and South Yorkshire and export to over 85 countries, Shipments are made to world-wide destinations on a daily basis.
In addition to the stocked items, Labfacility also offers bespoke Temperature Sensors. We are specialists in the design and manufacture of custom-built temperature sensors at our 18,000 square foot Yorkshire plant located in Dinnington. We also offer a wide range of components and fittings for sensor installation.
Quality and Service are key elements in the continued growth of Labfacility; technical support for both sensing and instrumentation is always freely available from our experienced technical sales teams.
Labfacility manufacture a wide range of temperature sensors in the UK to suit your application. A large range of Thermocouples in IEC or ANSI calibration, PRT's, Detectors, Environmental Sensors and Hand-Held Sensors / Thermometers are available to buy online.
Thermocouples
We offer an extensive range of Thermocouples manufactured in the UK, in various sizes all in IEC or ANSI colours. Products include Mineral Insulated, Fine Wire Versatile, Fabricated & Specialist Thermocouples together with a range of moulded-on Thermocouples.
High Temperature Sensors
Ceramic thermocouples for furnaces, kilns and other high temperature applications available in types K and N with recrystallised Aluminous Porcelain sheaths, rated to 1400°C.
Handheld Temperature Sensors
A selection of IEC, ANSI & JIS Hand Held Temperature Sensors manufactured in the UK to suit your specific application. Includes the Ergonomic Style range with IP67 rated 'shark tail style' handle which contains an antimicrobial substance to kill microorganisms, making it ideal for the food industry or applications where cleanliness is paramount.
Thermometer Kits with Meter
Products include the HVAC Standard and PRO kits, Type K general purpose thermocouple kit and two multi-purpose kits with optional moulded on probes or hand-held temperature probes. Catering Kit also available with High Accuracy Chef Thermometer and optional Type T probes.
The History of our Temperature Sensor Manufacturing in the UK
Labfacility were looking to expand into the Northern UK regions in early 1990's and purchased Wilgrip Controls Ltd in 1991 – based in Dinnington, South Yorkshire. Founded in 1985, 3 people worked at Wilgrip from the owners home office.
A Northern UK Sales Team were recruited and a 2,000 sq ft unit on the North Anston Trading Estate, Dinnington, was acquired for Labfacility to commence UK temperature sensor manufacturing. Before long, further expansion was needed and the adjoining unit was also acquired giving a total of 4,000 sq ft to build on the quickly expanding production requirements.
The Dinnington Colliery closure in the early 1990's saw the major regeneration of the area, assisted with Objective 1 European monies.
Labfacility bought Unit 3b Outgang Lane, Dinnington, a 7,000 sq ft unit, in 2005. This was built on the previous Pit Baths site.
This was further expanded in 2012 with the construction of a 5,000 sq ft mezzanine floor.
Most recently, in 2019, Labfacility expanded further into the adjoining 5,000 sq ft unit giving a total space of 18,000 sq ft. Staff numbers now exceed 30 at this site as we look to constantly increase market share, product ranges and distributor demand.
THERMOCOUPLE TEMPERATURE SENSORS
Where does the humble thermocouple stand in the high-tech world of measurement and control? The funny thing is that the temperature instrumentation market is dominated by complex, sophisticated measurement and control systems which provide a great degree of versatility and accuracy but, in many applications rely on a simple thermocouple (base-metal type usually) as the temperature sensor. Surprising really since instrumentation is typically accurate to a fraction of a degree centigrade whereas a base-metal thermocouple has uncertainties of ±2oC before it even sees the process.
Since measurement accuracy of the entire process is only as good as that of the sensor, why rely on something that, in principle, at least, has not significantly changed in nearly 200 years (Thomas Seebeck discovered the principle of the thermocouple in 1821). Why indeed especially when you are presented with a feeble output (typically 40µV/oC), a non-linear transfer characteristic and the need for automatic "cold-junction" compensation or some external ice reference; also, one of several types must be selected for each application, complete with a dedicated type of extension cable.
The answer to these questions is a surprisingly simple one – nobody has yet been able to come up with anything better to cope with harsh environments and wide temperature ranges.
The entire range of commonly used thermocouple types (J,K,T,E,N,R & S) span –200oC to 1800oC depending on their construction; they are generally rugged thanks to sheathing options and can operate in corrosive media; replaceable world-wide; reliable and, in Mineral Insulated form, flexible and versatile. All thermocouple types are supported by the majority of microprocessor based instruments; they do not require excitation since they are thermoelectric and can operate with reasonably long cable runs.
There are, of course, many alternative types of temperature sensor on the market including resistance thermometers, thermistors, infra-red devices; all valuable in particular applications. However, none of these alternatives to the thermocouple can compete in terms of temperature range, versatility and cost-effectiveness.
Labfacility has been UK manufacturing thermocouple and resistance thermometer assemblies for 50 years.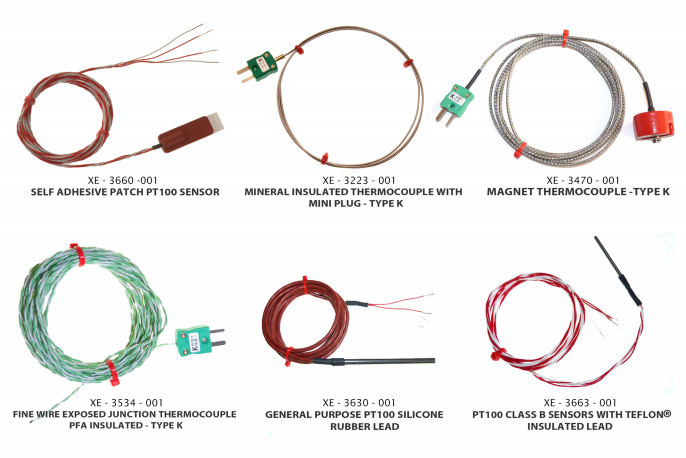 Frequently Asked Questions
How long as Labfacility been manufacturing temperature sensors in the UK?
Labfacility have been manufacturing thermocouple and resistance thermometer assemblies for 50 years in the UK at our South Yorkshire sites.
What type of temperature sensors are manufactured by Labfacility?
Labfacility manufactures a wide range of temperature sensors in the UK to suit your application. A large range of Thermocouples in IEC or ANSI calibration, PRT's, Detectors, Environmental Sensors and Hand-Held Sensors / Thermometers are available to buy online.
Does Labfacility manufacture temperature sensors to specific specifications?
Yes, Labfacility offers a unique custom sensor builder allowing customers to submit their specific requirements for quotation.
Are all temperature sensors manufactured to a specific quality standard?
Yes, Labfacility is fully ISO 9001 accredited and all temperature sensors are manufactured to ISO 9001:2015 standards with valid certification available to download for our website.
Are temperature sensors kept in stock for fast shipment?
Yes, Labfacility offer a range of popular specification temperature sensors from stock for immediate despatch Worldwide. All custom-made temperature sensors are manufactured to order with short lead times.
What calibration thermocouples are available from Labfacility?
Labfacility offer thermocouple temperature sensors in IEC and ANSI colours.