Lascar EL-WiFi-VAC - WiFi Vaccine Monitoring Kit
The EL-WiFi-VAC allows remote vaccine monitoring and data collection over a WiFi network, viewable from any internet enabled device including smartphone, tablet or PC using the EasyLog Cloud service. Set-up high and low alarms and receive instant email alerts when temperatures become too hot or cold in the fridge or freezer.
The device will store data internally if it loses WiFi connection and automatically uploads it to the Cloud once reconnected.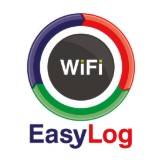 Use the EasyLog Cloud Apps for Android and Apple to easily setup your device and access your data anytime, anywhere.
Use the EasyLog Cloud Apps for Android and Apple to easily setup your device and access your data anytime, anywhere.
This product meets and exceeds CDC standards for vaccine monitoring.
Application Info
The EL-WiFi-VAC is suitable for a wide variety of applications. These include:
Vaccine Storage
Blood & Blood Component Storage
Calibration
The EL-WiFi-VAC comes with a calibration certificate issued at 2 and 8°C. It typically takes around 2 weeks to calibrate this product, please place your order today and our sales team will then confirm the exact delivery date.
| | |
| --- | --- |
| Model | EL-WiFi-VAC |
| Type | Vaccine Monitoring Kit |
| Communications Protocol | WiFi |
| Accuracy | Measurement accuracy (typical) ±0.2°C (-15 to +60°C) ±0.4°F (+5 to +140°F) Measurement accuracy (maximum) ±0.6°C (-40 to +60°C/ -40 to +140°F) |
| Readings | Unlimited |
| Resolution | Measurement resolution: 0.01°C (0.01°F) |
| Logging Interval | User selectable between 10 seconds and 12 hours |
| Ambient Operating Temperature | -20 to +60°C (-4 to +140°F) |
| Battery | Rechargeable Battery |
| Temperature Range | Measurement range (probe supplied): -40 to 60°C (-40 to 140°F) |
| Power Supply | 6 Months Battery Life / Mains Powered Option |
| Standards Met | Calibration Certificate: Supplied at 2 and 8°C |
EasyLog Cloud Promotional Video
Subscribe to our YouTube channel: https://www.youtube.com/channel/UCnPPNTtodIDopvuiMXhKOGQ Download our Data Logger catalogue for free: https://www.lascarelectronics.com/brochures/ Facebook: www.facebook.com/lascarelectronics Twitter: http://twitter.com/lascarlog Visit https://www.easylogcloud.com/ to find out more. EasyLog Cloud. Automate, protect and store your temperature and humidity data - from simple applications with just a few measuring points, to corporate solutions with hundreds of sensors around the globe. Use an existing wifi network. So, no vast infrastructure cost. No huge monthly fees. And no locked-in contracts. Easily access and manage your monitoring system from anywhere in the world, 24-7 using a smartphone, tablet, PC or any internet-enabled device. Powerful alarm functions give instant notifications of temperature or humidity incursions or sensor issues such as low battery or loss of WiFi. Email and SMS alarms can be sent to one or multiple people immediately or escalated as alarms become more urgent. EasyLog Cloud's robust reporting interface captures realtime and historical data from all sensors at any time, with the ability to compare data from multiple sensors in multiple locations. The net result is peace of mind. The assurance that you are meeting regulatory requirements with secure, long term, monitoring records and detailed audit trails. The EasyLog Cloud Secure. Accessible. Anytime. Anywhere.
---
Data Sheet - EL-WiFi-VAC
Data loggers are essential temperature monitoring devices for fridges and freezers storing vaccines. Lascar offers a range of vaccine monitoring kits that follow both CDC and NHS guidelines and that include a digital data logger, a glycol bottle probe and
---
---